K.G. Richardson
---
I received my B.A. in General Studio Art from San Jose State University. It took many years but I was finally able to study under Maynard Dixon Stewart, renowned artist, author and outstanding teacher. M.D. Stewart was himself taught the tradition of painting through his father LeConte Stewart, renowned painter out of Utah, Frank Vincent Dumond, instructor at the Art Students League, New York, and Alvin Gittins instructor at Brigham Young University. Frank Vincent Dumond studied in Paris, France, and was aquainted with James Macneil Whistler.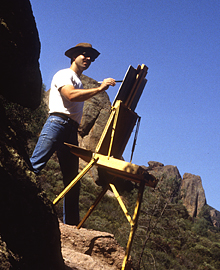 From M.D. Stewart l learned traditional painting methods including how to set up my palette. All classes were done in a studio with a wall of windows which filled the space with north lighting. So, I learned to love good, natural, north lighting. I also gained a greater respect for artists that came before me: Velasquez, Rembrandt, George Inness, John Singer Sargent and Whistler, to name a few.
I am a plein-air painter primarily. But of course, some finishing work does occur in my studio. In my paintings you will find a melding of impressionist and realist styles of the Nineteenth Century, "Impressio-Realism," if you will. While painting out of doors I try to capture what God has created. No one can improve on God's actual creation. However, a trained individual can improve on the shapes, the grouping and ordering of the objects before him. That is my aim, to make a composition that is worthy of being viewed over and over by its audience. Color is another important feature. To have good color, one must have a good color sense and some good greys in the picture. Also, form and the aerial perspective should be apparent in a picture. Atmosphere is present so I put it in.
I get up early, strap my easel to my pack frame along with my water and lunch, hike the trails of Northern California and compose these paintings.
When I paint marines I travel to the coast less than an hour away. I hike the trails to the water's edge and compose these paintings. Although I keep a good distance from the rough seas I have been deluged by rogue waves. I even named one such painting "Showertime" because I was thoroughly drenched.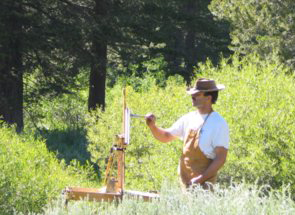 At times I complete studio paintings of friends and family members. Prices vary dependent upon size, complexity, research and other variables. Arrangements can be made for live sittings or photography sessions.
My acrylic mural paintings, unless otherwise noted, are done on location. The style is dependent on the client's desires. Prices vary dependent upon size, complexity, research and other variables. Olio are executed directly on walls unless otherwise noted.